Many inspirations contribute to the art I produce... I try not to define myself through any singular influence, yet do appreciate the aesthetic.
The World Around Us.
mo*star art* picture gallery...
Eco World.
mo*star art picture gallery...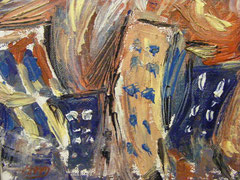 The following paintings are part of a series of paintings entitled "Eco World". The idea for this series began over 8 years ago, inspired by the world around us and the theme of movement. I aim to provide a sense of the movement, colour and life in a city...rather than the lifeless, stationary structures we may view buildings to be.
As we observe, everything on this earth exists in a delicate, perfect, balance. Our relationship with nature assumes a distinctive code of behaviour, and we can only try to be leaders in maintaining this balance; rather than the modernistic view of the world as an exploitable resource. After all, the earth and the beauty of nature is a trust for us all to appreciate and enjoy.
Archive.
As new paintings are added to the galleries above I will be moving some pictures here. Most of these shown are pre 2008.